The Community of Guardian Angels invites you to journey with us through the online
Todays Devotion. Set aside some time every day for this beautiful experience that includes scripture, prayer, music and message. If this journey encourages you to join us Sunday mornings at 9AM for Mass….even better!!
We also offer a mid-week mass every Wednesday morning at 7AM.
We are located at 1701 S. College Ave, Tempe AZ 85281 See map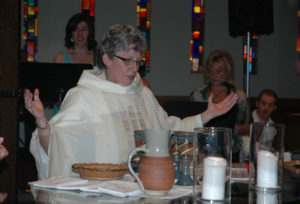 St Teresa of Avila Catholic Community, a sister parish of Guardian Angels, celebrates mass every week on Saturday evenings at 5PM. Mass is held in a beautiful chapel of Shadow Rock UCC located at 12861 N. 8th Ave. Phoenix, AZ. See map. For more information contact, Rev. Kate Lehman at revklehman@gmail.com.
There is another wonderful ECC community in AZ.  It is St. Michael's Catholic Church. For more information on St. Michael's check out their website www.stmichaelsecc.org or contact their Pastor, Rev. Delores Kropf at stmichaelsecc@q.com
Southwest Region ECC Parishes & Missions

Addresses & Schedules

Parish / Mission
Mass Times
Address – services held at the:
Blessed Oscar Romero
Sunday 11 a.m.
The Chapel, St. Paul Lutheran Church (ELCA)

1100 Indian School Road, N.W. (at University)

Albuquerque, New Mexico   87102

Guardian Angels
Sunday 9 a.m.
Community Christian Church

1701 South College Avenue

Tempe, Arizona   85281

St Mary Magdalene
Saturday 5 p.m.
First Congregational United Church of Christ

Westside Chapel
2801 Lomas Boulevard, N.E.

Albuquerque, New Mexico   87106

St Michael the Archangel
Sunday 9 a.m.
First Christian Church (Disciples of Christ)

Courtyard Chapel

740 East Speedway Boulevard

Tucson, Arizona   85719

St Teresa of Ávila
Saturday 5 p.m.
Shadow Rock United Church of Christ

Education Building Chapel

12861 North Eighth Avenue

Phoenix, Arizona   85029